Update 591 — Jobs Boom Resounding?
Sound Muffled by Drumbeat of Inflation
Last week's BLS jobs report was unprecedented — in a welcome way — showing a gain of 678,000 jobs in February alone and a staggering 7.4 million created since President Biden took office. With the Omicron variant finally fading fast across the nation, this job expansion has further room to grow.

But the statistical story is obscured; Americans feel that the macroeconomy is not performing well. The main culprit? Inflation, an economic condition felt universally. Today, we look at the Biden boom, the misperception-muffler that is inflation, and the road forward as jobs and prices occupy the American domestic economic mind.

Best,

Dana
—————
The Story in Stats

The February Bureau of Labor Statistics jobs report out last Friday showed U.S. firms adding 678,000 jobslast month, exceeding expectations by more than two hundred thousand. The unemployment rate fell to 3.8 percent, close to the 50-year low of 3.5 percent that was hit just before the pandemic. The labor force participation rate increased from 62.2 percent to 62.3 percent.

The unemployment rate for workers with no high-school diploma fell to 4.3 percent last month, the lowest on records dating to 1992. The economy has added three million jobs since October. On current trends, the return of jobs to these levels will occur within the next few months.
Payrolls, change since January 2020
Over the last 12 months, the economy has added 6.6 million jobs and is now only about 1.1 million jobs below pre-pandemic levels. This rate of recovery from the nadir of job losses early in the pandemic — two years from end to end — is about four times faster than the equivalent recovery rate in the years following the financial crisis of 2008.

Employment in sectors most impacted by the pandemic, leisure and hospitality, rose the fastest, up by 179,000 jobs in February; 124,000 of those in restaurants and bars. Other notable gains:
Professional business services: 95,000 jobs
Healthcare: 64,000
Construction: 60,000 (after almost none in January)
Transportation/Warehousing: 48,000
Retail Trade: 37,000
The December and January job gains were revised upward by a combined 92,000 jobs amid signals of labor shortages easing and Americans returning to the workforce in droves.

What has driven this remarkably rapid recovery of jobs?
Fiscal Stimulus: A year ago this week, President Biden signed the American Rescue Plan into law. By providing critical aid for families, businesses, and state and local governments, the ARP helped our economy recover and provided historic support to those in need. The investments made through the ARP will have compounding benefits on economic opportunities available to American families and communities for years.
Federal Reserve Forbearance: The Fed stepped in with a broad array of actions to keep credit flowing to limit the economic damage from the pandemic. These included large purchases of U.S. government and mortgage-backed securities and lending to support state and local governments. The Fed also showed a certain amount of restraint, avoiding interest rate hikes and preventing potential panic in an already uncertain environment.
Vaccinations: The Biden Administration oversaw great progress in getting shots in arms and people back to work with 65.4 percent of the US now vaccinated. More widespread vaccinations not only keep people healthier, but they also lower health care costs, make it easier for people to return to work, and increase overall economic activity.
Private-sector employment change since business cycle peak, December 2007 and February 2020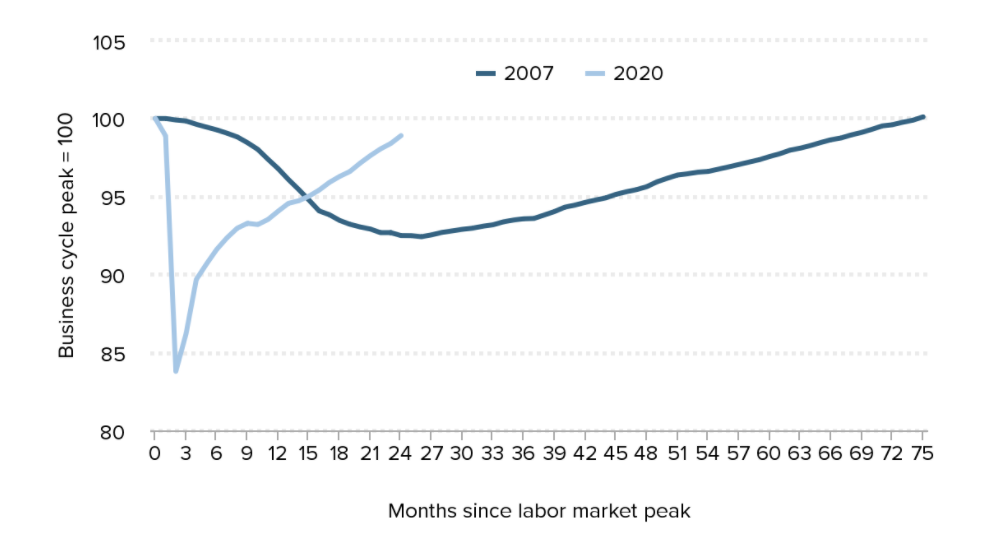 The Misperception

The Bureau of Economic Analysis's latest GDP report illustrated strong growth in Q4 2021. GDP soared by 7 percent and reflected growth in private inventory investment and consumer spending. The jump in private inventories was led by industries like motor vehicle dealers, one of the main businesses responsible for heightened inflation.

Last month saw the Omicron wave recede sharply. Those who reported being unable to work due to Covid fell by 1.8 million. Observers believe that employer demand for workers is likely to keep jobs growth healthy "even if demand slows amid disruptions from the war in Ukraine and rising interest rates in coming months," per Daniel Zhao, senior economist at Glassdoor.

Will this level of economic growth continue? Without predicting the path of Covid or the course of the conflict in Ukraine, signs point to yes. The first is the continuing decline in virus cases. The second, the move by an increasing number of states and cities in recent weeks to lift rules that required customers to be vaccinated and wear masks. The third, the prospect of a decline in household savings, which could pressure people to rejoin the labor market to collect paychecks, particularly as inflation rises. The flip side of this is that with the pandemic checks behind us, we will likely see a moderation of consumer spending, which will slow growth. With 11 million job openings and seemingly every business in the country desperately trying to hire, the economy will easily absorb many of those 1.5 million workers in the coming months.

The labor market could be near or beyond a sustainable employment level without stoking stronger inflation. With inflation at 7.5 percent in January, the Fed plans to raise interest rates multiple times this year to prevent the economy from overheating. Democrats certainly want the Fed to do so at a modest enough pace that would enable job growth to continue.

Why does this boom have no ballyhoo?
Per Gallup, a plurality of Americans describe the economy as "poor," and the vast majority believe the economy is getting "worse"
Nearly a third of respondents volunteered an economy-related answer when asked about the most important problem facing the country
Navigator Research, a left-wing survey organization, also found that 35 percent, a plurality of voters, believe the country is experiencing more job losses than usual
Americans see the evidence of the jobs boom and wage increases all around them. The jobs and even the wage gains, which ebbed last month, affect far fewer people, though more materially, than a universal condition like inflation. Many Fed observers believe the February inflation data being reported tomorrow will show another year-over-year decline in real wages.

The inflation situation may worsen the longer the war in Ukraine goes on. Oil prices are rising as financial markets worry about Russian oil sales being cut off. The United States and other Western governments may impose additional sanctions on Russia's energy sector. Just yesterday, President Biden announced the U.S. will ban Russian oil imports, the latest sanction against the Kremlin over its unprovoked war in Ukraine. The decision to target Russia's most lucrative industry will likely lead to even higher energy prices at home but does come with a level of bipartisan support in Congress.

Looking Ahead to the Midterms

The Federal Reserve is set to begin an interest rate hiking campaign on March 16, amid high inflation and geopolitical uncertainty from the Russia-Ukraine War. The new numbers are unlikely to change that one way or the other.

The February Consumer Price Index report is scheduled for release tomorrow, March 10. Economists anticipate headline inflation to rise from 7.5 percent in January to 7.9 percent, which would be the highest recorded since 1982. Headline inflation includes both food and energy prices. The data should illustrate only a partial impact of the spike in U.S. oil prices, which is expected to become more apparent in the next few months. Furthermore, the 6 percent increase in gas prices throughout February should add about 0.2 percentage points to headline inflation.

Job gains and GDP growth will be key indicators for the 2022 midterm elections. In 2020, 35 percent of voters called the economy their top voting issue, even during a global pandemic. In 2022, that number will likely be even higher. Touting the accomplishments is important, but Democrats need to break that messaging down. Rather than pointing to the ARP and Infrastructure laws, Democrats could speak specifically to recovery and how they have worked to cut costs in their respective states and districts.

To convince voters that Democrats are fighting not just to care for kitchen table needs but to move our entire economy forward, they need to put creating jobs, rewarding those who work hard, and expanding economic opportunity front and center. Voters should know that Democrats have the ideas and know-how to deliver tangible benefits that improve the economy.